BiCon 2018 will take place at the University of Salford's main Peel Park Campus; in particular, the Chapman Building and University House – and we will be making use of the Peel Park Quarter accommodation on site.
Salford is a city just outside Manchester city centre; the university has its own train station, Salford Crescent, with trains running from the main terminus stations (Piccadilly and Victoria), as well as Manchester Airport, and even direct services from as far afield as Blackpool, Clitheroe, Barrow-in-Furness and Windermere, Southport, Stalybridge and Wigan.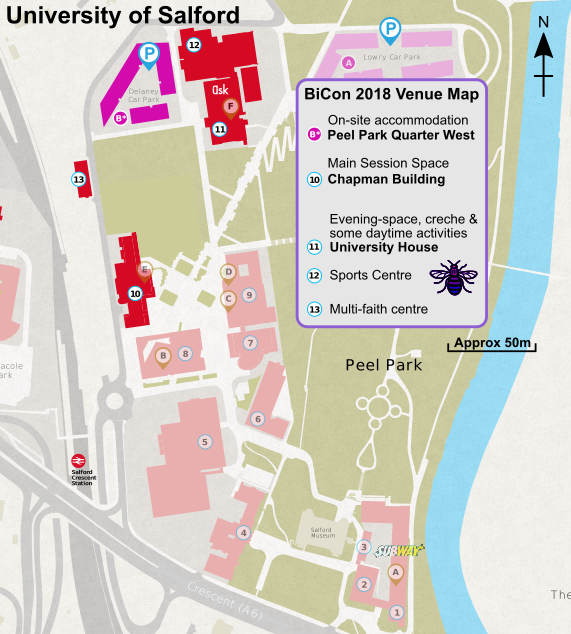 Daytime and evening spaces
Chapman Building is one of two daytime buildings we will be using. We will be using one lecture theatre style room with fixed seating for plenaries, three seminar style rooms and a large study area plus some other spaces more open areas. There is an open seating and socialising space downstairs with room for a few stalls and a craft table and we also hope to have a space to display notices in this area.
The rooms are spread out across three different floors with only one lift to each level. We will be asking attenders who can, to use the stairs where possible to prioritise them for people with access needs.
University House is where we plan to have BiCon's evening space and we will have it for some daytime use as well. Apart from one smaller area of the bar up some steps, the entirety of this space has level access via lifts.
The bar is large and has various types of seating including fixed booths, high and low chairs many of which are moveable including some which are good and sturdy with no arms. There is a dance space next to the bar.
There is a smaller alcohol free cafe on the same floor as the bar which will be serving some kind of food for some of the time – we will publish more information about this as soon as we have it. As it is two doors away from the bar and dancing room, this will be quieter space.
There is also a large downstairs space in the same building which will have space for games in the evening as well as some daytime activities.
There is a small counselling room in University House which we will use as a proper quiet space.
In addition to the booked spaces BiCon attendees are welcome to use the nearby Multi-faith centre, and the University sports centre which has a swimming pool and costs £7.50 per session. The venue is also close to the large open areas of Peel Park.